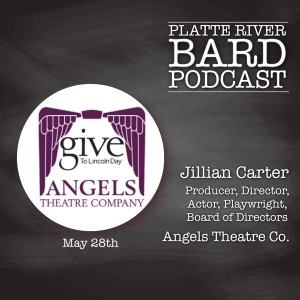 Tuesday May 26, 2020
The Angels Theatre Company isn't missing a beat - with Jillian Carter!
Today our guest is Jillian Carter, who is a Lincoln area Playwright, Actor, Director, Producer, and Board Member of Angels Theatre Company and also the Lincoln Theatre Alliance.  She is also the Managing Editor of Appearing Locally, a review blog of performances from theatres in the Lincoln Theatre Alliance, and she is a happy Mom of four.
Angels Theatre Co. has been creating engaging theatre that promotes personal growth, social and community awareness since 1992.
Website:  http://www.angelscompany.org/
Give to Lincoln for Angels Theatre:  https://givetolincoln.com/nonprofits/angels-theatre-company
Facebook: https://www.facebook.com/angelstheatrecompany/?ref=page_internal
Appearing Locally blog: http://appearinglocally.com
#GivetoLincoln #AngelsTheatreCo #appearinglocally
*************************
The Platte River Bard info:
Facebook:  https://www.facebook.com/theplatteriverbard 
Instagram: platteriverbard 
Twitter:  @platteriverbard 
Hashtags:  #theplatteriverbard  #platteriverbard  #communitytheatre  #nebraskatheatre 
#livetheatre  #nebraska  #performingarts  #community 
Email:  platteriverbard@gmail.com
Music is used with permission by Screaming Skull Productions. www.jollyrogerskc.com
© The Platte River Bard Podcast, 2019, Chris and Sheri Berger
Comments
(0)
To leave or reply to comments, please download free Podbean or